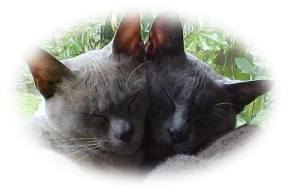 HONPUSS BURMESE "Why did I choose Burmese?" I get asked. I just introduce the enquirer to the cats and they understand. But the story goes back further than that, I had bred shown and judged Afghan Hounds for over twenty years always having a moggy or two around the dogs. When my last moggy died at the ripe old age of twenty one I swore no more cats but six months later I came home with a tiny black half Burmese kitten with huge honey coloured eyes. Honey was the most affectionate and loving cat I had ever met and she totally adopted my partner Julio. At the time he worked from home and would spend his days at the PC with a small furry bundle snuggled on his lap. Honey (or Honpuss as she became known) had so much character and used to play in the woods at the back of our house until she befriended and old black neutered boy. He used to wait outside for her in the morning and sadly one day she followed him across the road and was killed by a car. We were heartbroken she was only two and we swore we would never have another cat but you know what they say never say never! Six months later my next door neighbour invited us in for a Christmas drink and to see what he had bought his wife for Christmas – he put a beautiful lilac Burmese kitten in my arms and I was smitten and began my search for a lilac kitten. On a snowy New Years day I went to Linda Taylors (Elanay Burmese) to see a brown baby girl. (well you know what it's like I just couldn't wait and there were no lilac kittens around) There were 7 kittens, brown, blue, chocolate and lilac but only the brown girl was available. She hated me on sight but I fell in love and three weeks later I took Elanay Evelyn Rosebrown (Jasmine) home, with Linda's pleas for me to show her ringing in my ears. I had given up showing the dogs as the whole scene had become very political and I really didn't want to go through a similar thing with Jasmine, after all I only wanted a pet
Where can I start – it's love in a fur coat, it's a brick wrapped in silk, it's a Velcro cat. Burmese are all these things but they are also incredibly beautiful. They are gregarious, outgoing, intelligent ,friendly, fun loving and it is all these characteristics that make up a Burmese cat. They are not a cat to be left alone, they need the company of either other pets or people and like nothing more than snuggling down on an accommodating lap. They delight in "helping" manage the house. The females like to be at "center stage" and assume an active role ruling the household. The males prefer to supervise from the lap position; they are more laid back and less opinionated. Burmese cats are people-oriented and almost doglike in personality. They shadow their owners and desire to give and receive affection. Burmese are true lap-loving companions: quick to learn and extremely loyal. The Burmese is strong, athletic and elegant, of foreign but not extreme type which is distinctive and quite individual. A characteristic feature of the Burmese is it's amazing coat which is close lying with a glossy, almost polished quality that requires little or no grooming other than a daily stroking. This together with a rounded head, expressive eyes and a sweet disposition, present a totally distinct cat which is comparable to no other breed.
Burmese cats have been known for centuries past living in Burma, Thailand and Malaya, and have been imported along with the Siamese, and could be found in the UK in the late 1800's and were known as Chocolate Siamese, but were nothing to do with chocolate pointed Siamese which appeared later. At the time these yellow-eyed cats were never favoured and gradually the breed died out in England, but persisted in Europe for some time. In 1930, Dr Joseph C Thompson of San Francisco, California, a retired naval officer and practising psychiatrist, imported a little brown female called Wong Mau. This is the cat that is accepted as the original Burmese. Many breeders of that time regarded Wong Mau as a dark Siamese, but when she was mated to a seal point Siamese the resulting kittens were both pointed and brown kittens. One of the brown kittens was mated back to his mother and the kittens were all brown and the Burmese cat was born. The first US bred Burmese were imported into the UK in 1949 but the Governing Council of the Cat Fancy were not loathe to grant breed recognition to the Burmese based on the US pedigrees. Recognition was eventually granted in 1952 after three generations were bred here. The first blue Burmese was born in the UK in 1955 and sparked controversy among Burmese breeders as many would only accept Brown kittens in their breeding programmes. But as we can see, with the myriad of colours in Burmese today not everyone felt this way and we now have 10 different colours, Brown, blue, chocolate, lilac, red, cream, brown tortie, blue tortie, chocolate tortie and lilac tortie. Whatever colour the Burmese cat is it's most outstanding feature is its affectionate nature. You can be guaranteed a loving welcome when you share your life with a Burmese.
© Sandra Woodley